Linus Nwankwo, M.Sc.
Short Bio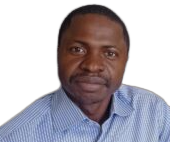 Mr. Linus Nwankwo started as a PhD student at the Chair of Cyber-Physical-Systems (CPS) in August 2021.  Prior to joining CPS, he worked as a research intern at the Department of Electrical and Computer Engineering, Technische Universität Kaiserslautern, Germany.
In 2020, he obtained his M.Sc. degree in Automation and Robotics, a speciality in control for Green Mechatronics (GreeM) at the University of Bourgogne Franche-Comté (UBFC), France. In his M.Sc. thesis,  he implemented a stabilisation control for a mobile inverted pendulum robot and investigated the possibility of controlling and stabilising the robot via CANopen communication network.
Research Interests
Robotics

Simultaneous localization & mapping (SLAM)
Path planning & autonomous navigation.
Dynamic modelling and control
Machine and Deep Learning

Neural Networks
Supervised, Unsupervised, and Reinforcement Learning
Probabilistic learning for robotics 
Human-Robot Interaction (HRI)

Intention-aware planning for social service robots
Social-aware and norm learning navigation
Research Videos
https://cps.unileoben.ac.at/wp/OpenRobot_Nwankwo2022_lowQ.mp4#t=1
Contact & Quick Links
M.Sc. Linus Nwankwo
Doctoral Student supervised by Univ.-Prof. Dr. Elmar Rueckert since August 2021.
Montanuniversität Leoben
Franz-Josef-Straße 18, 
8700 Leoben, Austria 
Phone:  +43 3842 402 – 1901 (Sekretariat CPS)
Email:   linus.nwankwo@unileoben.ac.at 
Web Work: CPS-Page
Web Private: https://sites.google.com/view/linus-nwankwo
Chat: WEBEX
CV of M.Sc. Linus Nwankwo
DBLP
Frontiers Network
GitHub
Google Citations
LinkedIn
ORCID
Research Gate
Publcations