Student Assistant at the Montanuniversität Leoben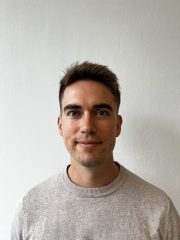 Short bio: Björn Ellensohn, B.Sc. started at CPS in April 2023.
Björn Ellensohn is a master student at Montanuniversität Leoben in the program Industrielle Energietechnik with a focus on digitalization. Björn's research interests include automating drilling operations, his bachelor's thesis focused on the challenges involved in this drilling process, and at CPS he develops complex ROS2 software and hardware systems.
Python, Docker, ROS, ROS2, micro-ROS
Robotics, Electronics, embedded systems

mobile robotics, legged robots 
mapping, navigation and path planning (active SLAM)
Björn Ellensohn, B.Sc 
Student Assistent at the Chair of Cyber-Physical-Systems
Montanuniversität Leoben
Franz-Josef-Straße 18, 
8700 Leoben, Austria 
Email:  
bjoern.ellensohn@unileoben.ac.at