Theoretical difficulty: mid
Practical difficulty: High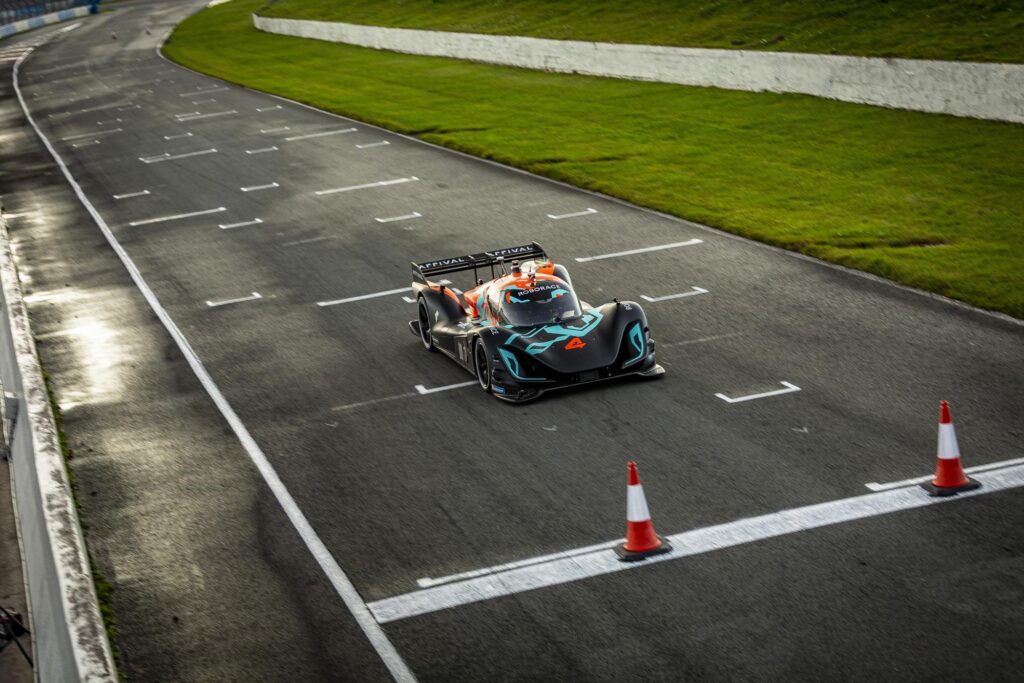 This thesis explores machine learning techniques for analysing onboard recordings from the TU Graz Racing Team, a prominent Formula Student team. The main goal is to design and train an end-to-end machine learning model to autonomously discern race courses based on sensor observations.
Further, this thesis seeks to address the following research questions:
Can track markers (cones) be reliably detected and segmented from onboard recordings?
Does the delineated racing track provide an adequate level of accuracy to support autonomous driving, minimizing the risk of accidents?
How well does a neural network trained on simulated data adapt to real-world situations?
Can the neural network ensure real-time processing in high-speed scenarios surpassing 100 km/h?
To achieve the objectives, the following concrete tasks will be focused on:
Thesis initialisation and literature review:

Define the scope and boundaries of your work.
Study the existing project in [

1

]  and [

2

] to identify gaps and methodologies.
 

Setup and familiarize with the simulation environment

Build the car model (URDF) for the simulation (optional if you wish to use the existing one)
Setup the ROS framework for the simulation (Gazebo, Rviz)
Recommended programming tools: C++, Python, Matlab
 

Data acquisition and preprocessing (3D Lidar and RGB-D data)

Collect onboard recordings and sensor data from the TU Graz Racing track.
Augment the data with additional simulated recordings using ROS, if necessary.
Preprocess and label the data for machine learning (ML). This includes segmenting tracks, markers, and other relevant features.
 

Intermediate presentation:

Present the results of the literature study or what has been done so far
Detailed planning of the next steps
 

ML Model Development:

 Design the initial neural network architecture.
Train the model using the preprocessed data.
Evaluate model performance using metrics like accuracy, precision, recall, etc.
Iteratively refine the model based on the evaluation results.
 

Real-world Testing (If Possible):

Implement the trained model on a real vehicle's onboard computer.
Test the vehicle in a controlled environment, ensuring safety measures are in place.
Analyze and compare the model's performance in real-world scenarios versus simulations.
 

Optimization for Speed and Efficiency (Optional):

Validate the model to identify bottlenecks.
Optimize the neural network for real-time performance, especially for high-speed scenarios
 

Documentation and B.Sc. thesis writing:

Document the entire process, methodologies, and tools used.
Analyze and interpret the results.
Draft the thesis, ensuring that at least two of the research questions are addressed.
 

Research paper writing (optional)
[1]   Autonomous Racing Graz, "
Enhanced localisation for autonomous racing with high-resolution lidar
", Article by Tom Grey, Visited 30.10.2023. [2]   Autonomous RC car racing ETH Zürich, "
The ORCA (Optimal RC Racing) Project
", Article by Alex Liniger, Visited 30.10.2023. [3]   P. Cai, H. Wang, H. Huang, Y. Liu and M. Liu, "
Vision-Based Autonomous Car Racing Using Deep Imitative Reinforcement Learning
," in 
IEEE Robotics and Automation Letters
, vol. 6, no. 4, pp. 7262-7269, Oct. 2021, doi: 10.1109/LRA.2021.3097345.
[4]   Z. Lu, C. Zhang, H. Zhang, Z. Wang, C. Huang and Y. Ji, "Deep Reinforcement Learning Based Autonomous Racing Car Control With Priori Knowledge," 2021 China Automation Congress (CAC), Beijing, China, 2021, pp. 2241-2246, doi: 10.1109/CAC53003.2021.9728289.
[5]   J. Kabzan, L. Hewing, A. Liniger and M. N. Zeilinger, "
Learning-Based Model Predictive Control for Autonomous Racing,
" in 
IEEE Robotics and Automation Letters
, vol. 4, no. 4, pp. 3363-3370, Oct. 2019, doi: 10.1109/LRA.2019.2926677.