Mixed Reality (AR) interface based on Unity 3D for intuitive programming of robotic manipulators (UR3). The interface will be implemented within on the ROS 2 robotic framework.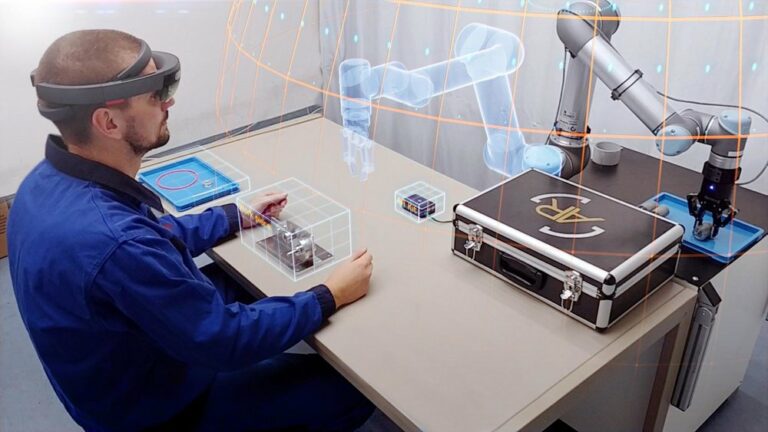 Basic skills in Python or C++
ROS
Unity3D or C#
Keywords: Augmented Reality, Robotic Interfaces, Engineering, Graphical Design
Minimum 3 months. Preferably 5-6 months.
Robots will become a necessity for every business in the near future. Especially companies that rely heavily on the constant manipulation of objects will need to be able to constantly repurpose their robots to meet the ever changing demands. Furthermore, with the rise of Machine Learning, human collaborators or " robot teachers" will need a more intuitive interface to communicate with them, either when interacting with them or when teaching them.
In this project we will develop a novel Mixed (Augmented) Reality Interface for teleoperating the UR3 robotic manipulator. For this purpose we will use AR glasses to augment the user's reality with information about the robot and enable intuitive programming of the robot. The interface will be implemented on a ROS 2 framework for enhanced scalability and better integration potential to other devices.
This internship will result to an innovative graphical interface that enables non-experts to program a robotic manipulator.
The intern will get valuable experience in the Robot Operating System (ROS) framework and developing graphical interfaces on Unity. The student will also get a good understanding of robotic manipulators (like UR3) and develop a complete engineering project.
Please contact us via cps@unileoben.ac.at if you want to join us for an internship.
We will support you during your application for an internship grant. Below we list some relevant grant application details.
CEEPUS grant (European for undergrads and graduates)
Find details on the Central European Exchange Program for University Studies program at https://grants.at/en/ or at https://www.ceepus.info.
In principle, you can apply at any time for a scholarship. However, also your country of origin matters and there exist networks of several countries that have their own contingent.
Ernst Mach Grant (Worldwide for PhDs and Seniors)